How to Grow and Care for Coral Bells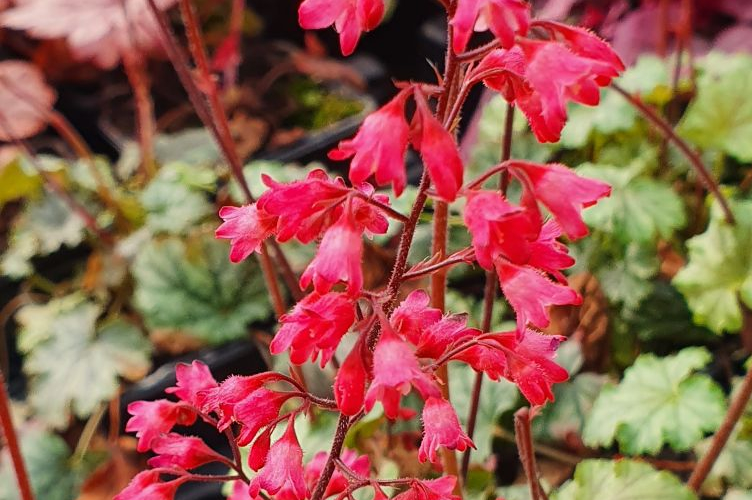 Heuchera, Coral Bells, Alumroot: Coral Bell is its common name, and heuchera is the genus.
The richly colored leaves is the main reason why gardeners love heuchera sanguinea coral bell plants.
Many heauchera varieties are wonderful for partly shady gardens, and really perk up those areas in your garden.
There are so many heacheras to choose from, so selecting the right kind for the garden conditions you have, can be a bit tricky.
As a plant group, heucheras share some basic traits.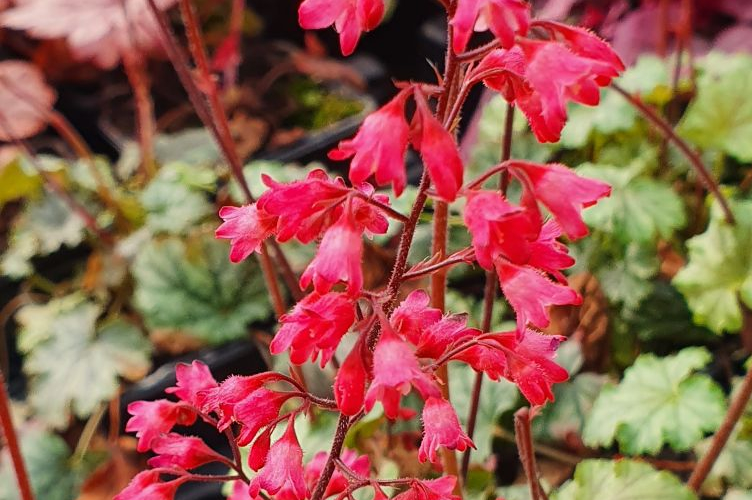 Heuchera 'Paris'
They all have a clumpforming habit and their evergreen leaves are often lobed, rounded or heart-shaped.
They all also have relatively small blooms along the tops of seperate, upright stems.
Their foilage height is usually about 1 foot high (30cm) with flower stems anywhere from 18-30 inches (45-75 cm) tall.
The picture of coral bells here shows how the delicate flowers appear.
The flowers in the picture are pink, but they also grow white and red coral bell flowers.
Heuchera Plant Information
'Coral Bells' Heuchera sanguinea, grow rosettes of rich green to grayish green leaves with red, pink or white flowers.
Hybrid 'Coral Bells' H. x brizoides, look very similar, but are a bit more heat tolerant.
There are also quite a few heucheras with amazing foilage colors.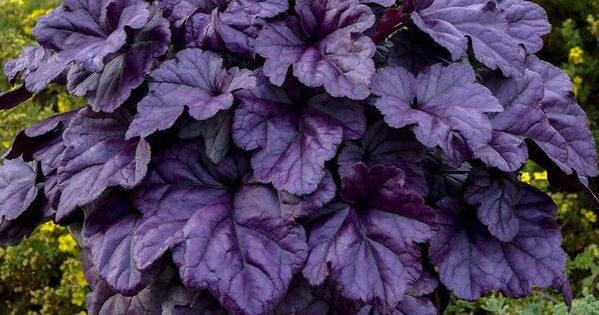 Purple Heuchera Coral Bells
This group is often referred to as alumroots.
'American' alumrootm H. americana has silver or gray mottles green leaves, and smal-flowered alumroot H. micrantha has ruffled green leaves, and hairy alumroot H.villosa has larger than usual leaves. All these grow in zones 4-9.
The hybrid heucheras have leaves in a wide range of colors, including green, yellow, orange, maroon, purple, black and silver.
All grow best in zones 4-9.
How To Plant Heuchera
The coral bell plants grow best in soil that has been amended with organic matter.
Heucheras need some moisture around their roots if you are growing them in full sun.
Their light needs vary quite a bit, those with dark leaves need at least a couple of hours of direct sunlight each day, to color up well.
Pale and bright colored hybrids should grow in light shade, as full sun will scorch their leaves.
Plant heucheras with pretty colored leaves in front of the border to show them off.
And grow shade lovers in a woodland garden, or as a floral groundcover.
Don't plant too many varieties of bright-colored leaves, because it make your garden look spotted.
How To Care For Heuchera
Once the leaves emerge in spring, carefully cut away the old foilage to make the plant look nice.
Then apply a mulch of composted leaves, or bagged compost from the garden center.
After flowering cut down old flower stems and remove the oldest leaves.
This will make the heuchera plant look good for the rest of the summer.
Watch out for vine weevils, they like to lay their eggs around the base of the plants.
These grubs can completely destroy plants in a single season.
If you are not vigilant, the first you may know about this problem is when the plants wilt and colaspe, then it's likely to late to save them.
So be sure tocheck under the leaves regularly. Slugs and snails are not interested in heucheras which is a plus.
Winter Care
Heucheras are hardy plants and keep some of their foilage over winter, so you don't have to cover them or do anthing.
Heuchera Plant Varieties
Here is a list of some of the most popular plants, because of their gorgeous foilage colors.
* Amber Waves * Amethyst Myst * Plum Pudding * Palace Purple * Green Spice * Marmelade * Americana * Georgia Peach * Chocolate Ruffles * Peach Flambe * Lime Rickey * Obsidian * Pewter Moon * Ruby Veil * Snow Angel* Chatterbox * Stormy Seas * Creme Brulee * Garnet"