Sweet Floweret: Easter Egg Tree Tutorial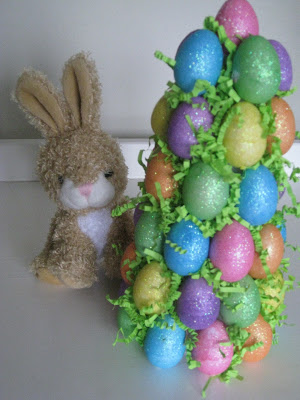 As promised, here is the second $1 store craft that I came up with last week.
It turned out cute. If you like bright colors and glitter, you'll like this 😉
My daughter loves it and helped me to make it.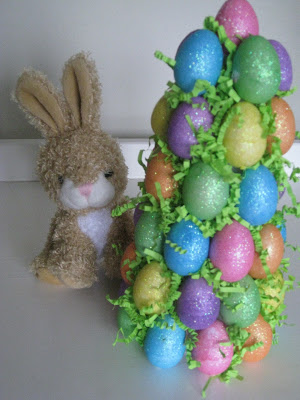 Fun craft to do with the kids and one that you can use every year instead of making it then pitching it after the holiday is over!
Here's what you'll need:
1 foam cone
4 packs foam glitter egg ornaments
1 paper Easter grass
Hot glue gun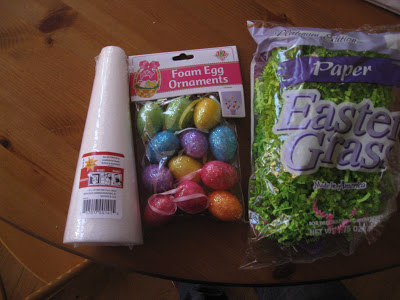 Start by pouring all the eggs on the table.  Cut all of the ribbons off.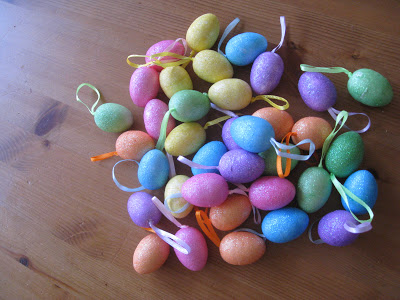 Put a dab of glue on egg then hold it in place for a few seconds.  Start at the bottom and work your way up!
Although this pic shows grass being put on along the way, wait till the end to fill the holes with grass.  It's much easier.  I used a pencil to push the grass into the gaps well.  Make sure you let the glue dry well before filling the gaps.
It goes pretty quickly once you get going.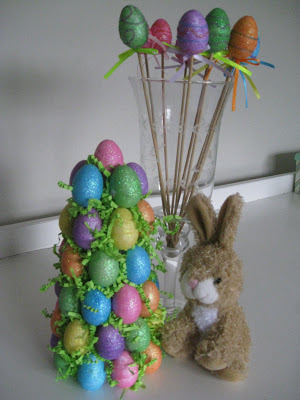 The vase above is filled with these eggs on a stick.  Just a $1.  Cute, huh?
Here's your completed Easter egg tree!