Orange PushUp Smoothie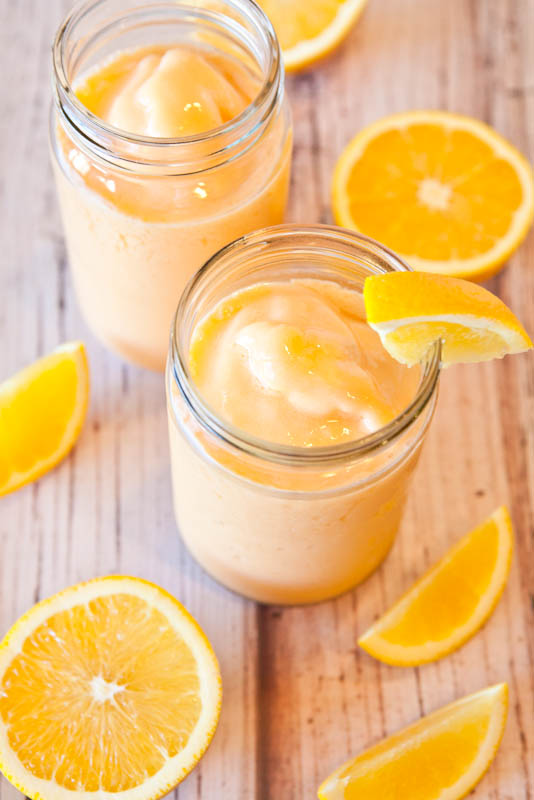 When I was growing up, one of my favorite things to do was ride my bike with my friends to the local gas station's mini-mart and reach into their freezer case and pull out an Orange Push-Up.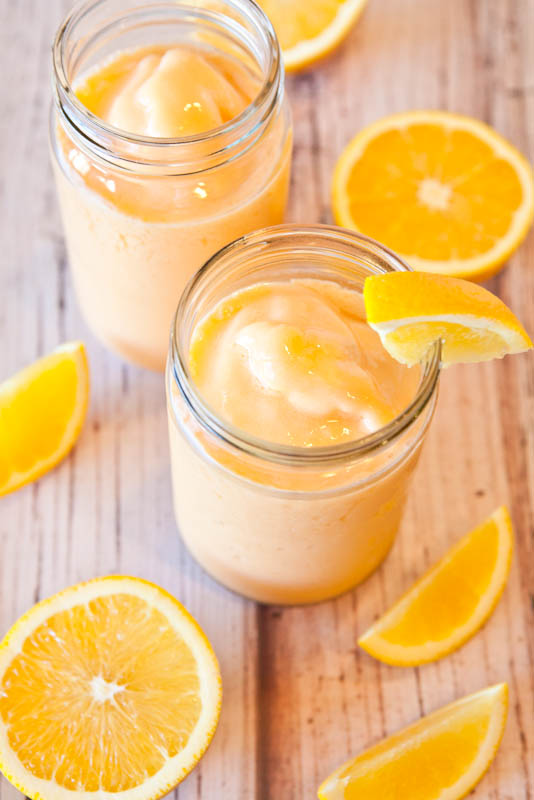 I loved Push-Ups and seeing those brightly colored dots meant that creamy orange goodness was soon going to be mine.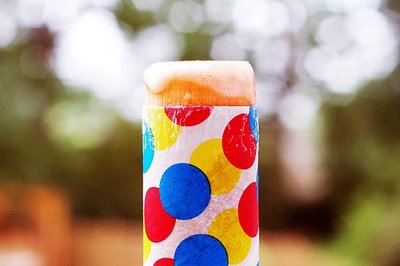 I love it when Push-Ups begin to melt because they taste even sweeter, creamier, and better.
The same was true with this smoothie.  As it began to melt, it got even better.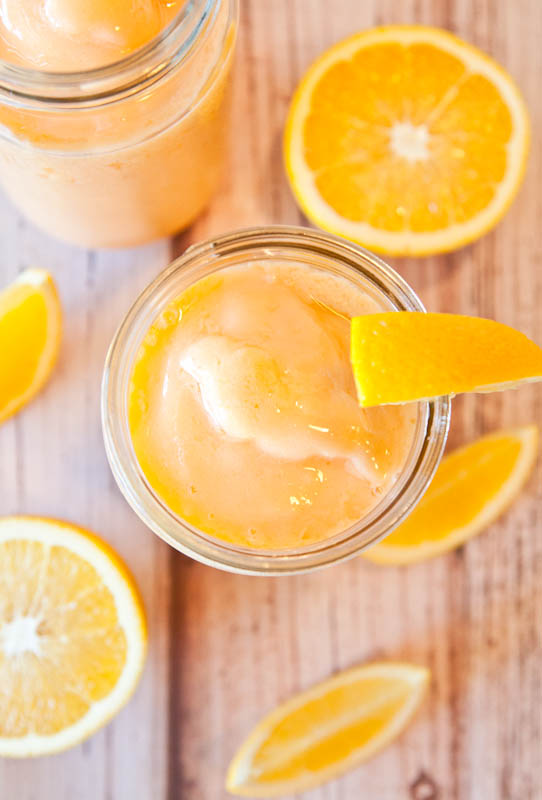 This smoothie is a dead ringer for Orange Push-Ups.
Don't skimp on the sugar if you want it to taste exactly like an Orange Push-Up and I promise, it does.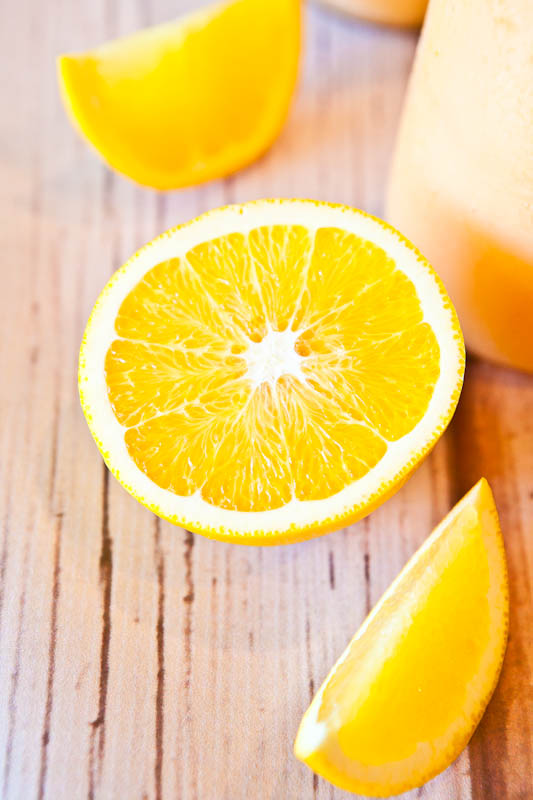 Sweet oranges 'n creamy perfection.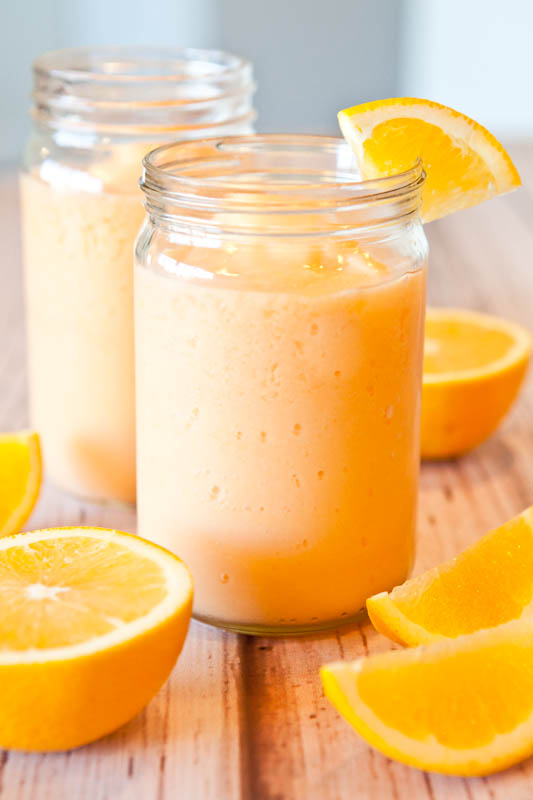 I used this mango-orange from Hawaii's Own brand for the concentrate.  It was on sale for 99 cents for the can at my grocery store and I was being cheap being budget conscious and didn't want to buy the Minute Maid which was $3.29 for one can.
If you can't find this concentrate, I'm sure any OJ concentrate or citrus juice concentrate blend should be fine.  I really didn't taste mango per se, just an orangey citrus flavor.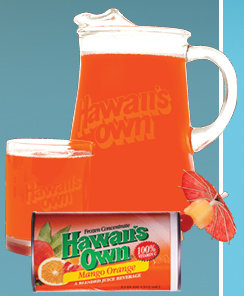 This recipe made three good-sized smoothies and since I wasn't going to drink them all at once, I popped the leftover smoothie mixture in the freezer and realized after the fact that I should have poured the extra into Popsicle molds for homemade Push-Ups.  Next time, I'll do that.
For now, I've been eating it like orange sherbet style with a spoon from the glasses I poured it into and then froze.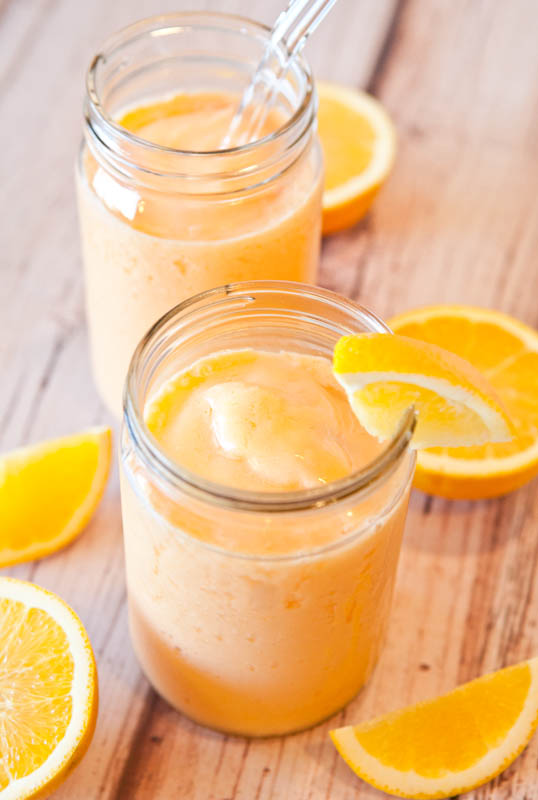 And doing lots of slurping.
Orange Push-Up Smoothie (Vegan, Gluten Free)

1 can orange juice concentrate, slightly thawed
1 cup milk (half and half, cream, nut milk, soy milk)
1/2 cup sugar, or to taste (you can reduce the sugar or use an alternate sugar substitute such as stevia but it won't taste as close to classic Orange Push-Ups. Many people use much more than 1/2 cup, myself included. I used about 1 cup in my version)
1/2 teaspoon vanilla extract
2 cups ice, or to taste
Combine all ingredients, except ice, in a large blender or Vita-Mix and blend until smooth and creamy, taking care the sugar has dissolved and is well incorporated.  If desired, add a splash more water or more milk.  Add the ice and blend until smooth.
Makes approximately three eight-ounce portions.
Tips: Pour excess portions into glasses and thaw later and drink as smoothies; pour excess into bowls and freeze for orange sherbet; or pour into Popsicle molds, paper cups, or ice cube trays and freeze for homemade Push-Ups.  Or halve the recipe by cutting the can of orange juice concentrate in half and halving all other ratios.
Optional: Add 1 to 2 ounces of Rum, Malibu, Vodka, Citron, Marshmallow Vodka, Gran Marnier or similar, per smoothie portion, or to taste.
Edited to Add: There have been people who have made this and report theirs being bitter but believe it may be due to the brand of OJ concentrate they used. I suggest trying the brand of juice I showed in the above photos, Hawaii's Own, and I used mango-orange flavor, as originally indicated above. I bought it at Ralph's (Kroger) Grocery store.
Also, do not be afraid to sweet this to taste, and that may mean substantially increasing the amount of sugar used, i.e. using 1 cup or more, rather than 1/2 cup, of sugar. I used 1 cup in my version, but have a sweet tooth and some people said they tried 1 cup and it was too sweet for them. Everything is to taste (too bitter, too sweet; it's all relative and depends on the brand of concentrate used).  I appreciate the feedback and everyone who has tried the recipe so far.
The variations of what I'm going to do with this addictive orange mixture is exciting and has my wheels turning: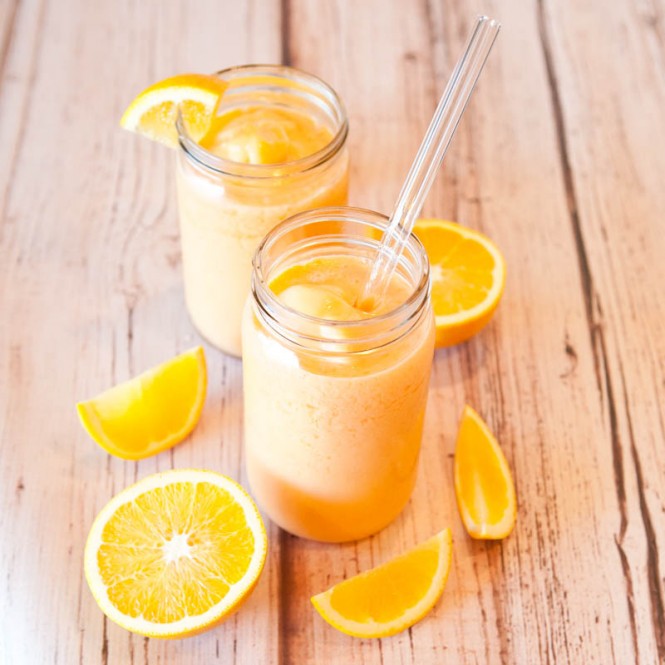 1. Pour it into molds and freeze like traditional Push-Ups (or frozen into ice cube trays or poured into paper Dixie cups with a makeshift stick inserted and peel off the paper cup after it has frozen)
2. Freeze it and eat in a bowl as orange sherbert
3. Drink it smoothie style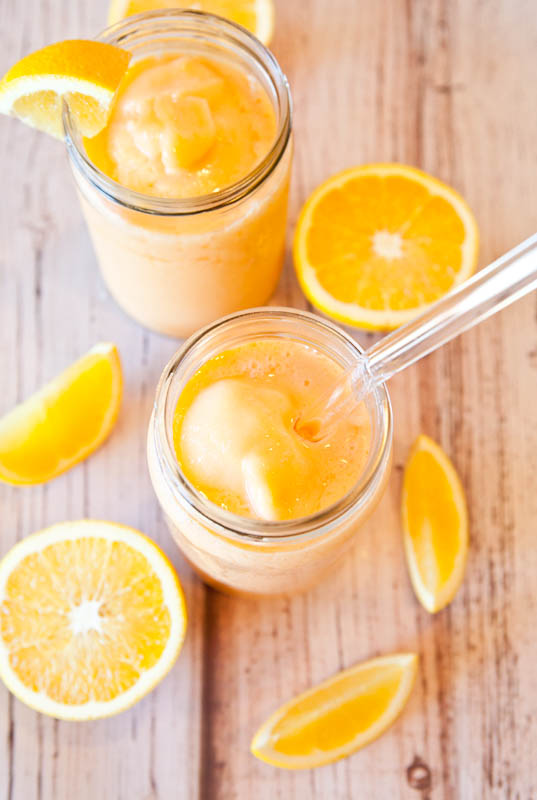 Now if the weather could just warm up a bit so my teeth don't chatter while I slurp copious amounts of orange sugary liquid.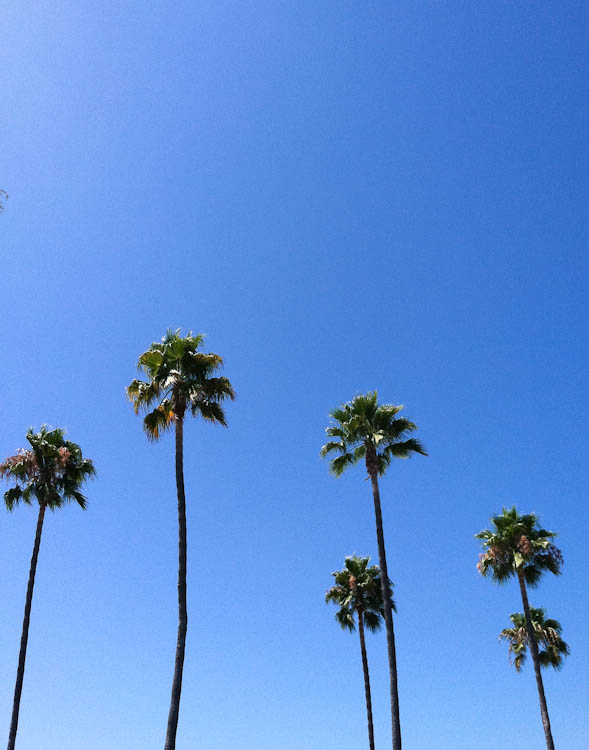 But I'll shiver and chatter for this stuff any day.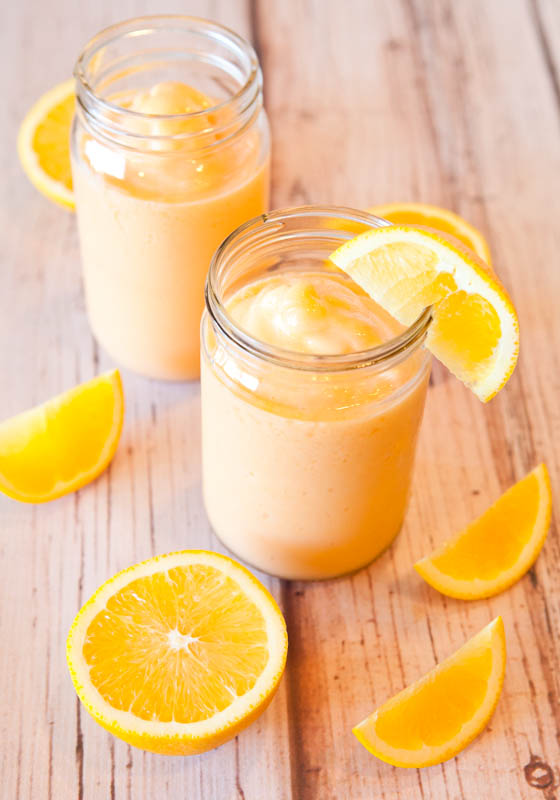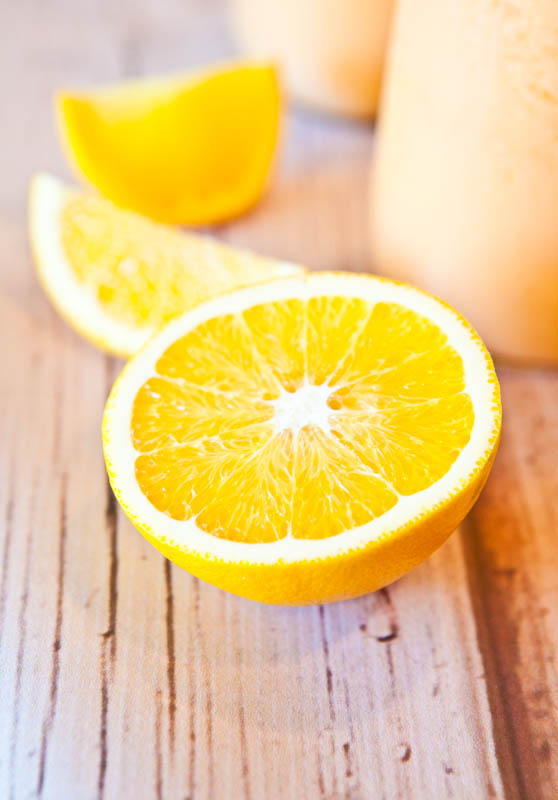 If you're a fan of fruity and creamy smoothies, try:
Pineapple Banana & Coconut Cream Smoothie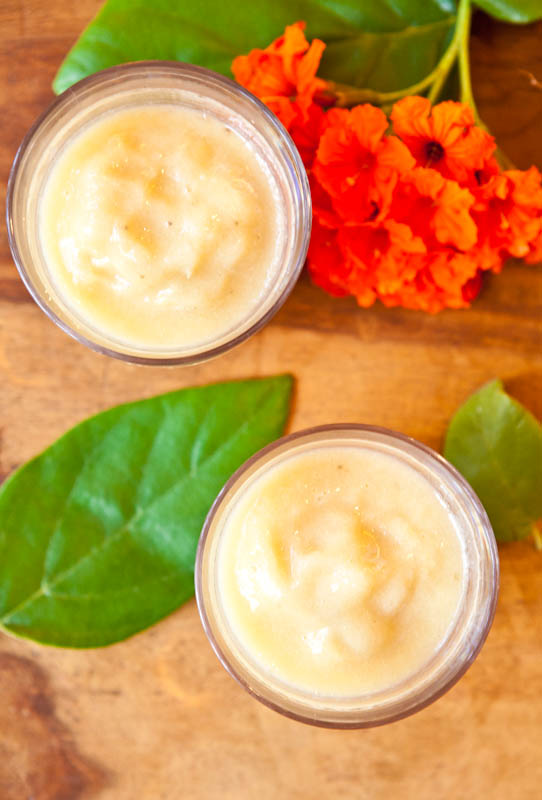 Peaches & Coconut Cream Smoothie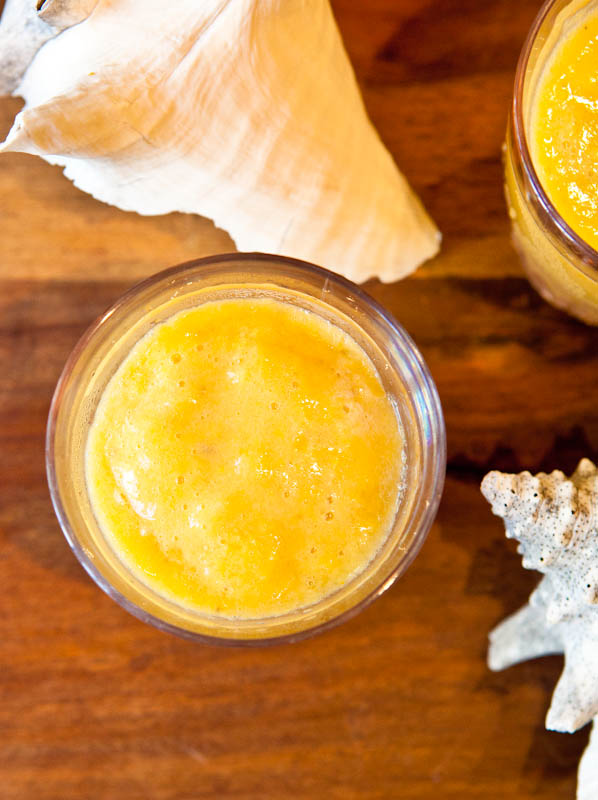 Or just cut to a dessert smoothie with a Creamy Cookie Butter White Chocolate Banana Smoothie.  Use peanut butter or almond butter if that's what you have available because there's a cookie butter shortage.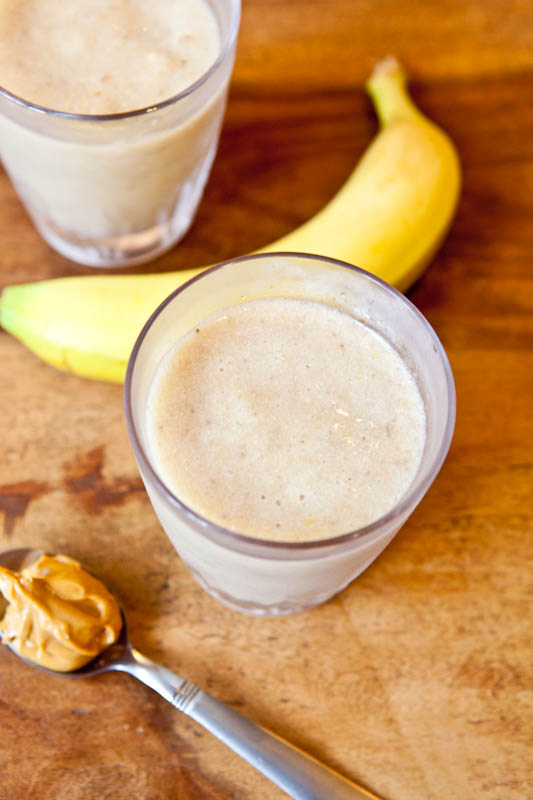 Questions:
Do you like Push-Ups?
Do you like orange drinks?
I also love Orange Julius and Orange Crush soda.  I haven't had either in years, but I am fond enough of Orange Crush to order Orange Crush checks.
I am apparently stuck in a 1982 timewarp where people still write out checks and long to lick melty Push-Up with dots on the paper wrapper from the gas station.
While I'm at it, I'd like to do this all while watching The Brady Bunch and Three's Company reruns and use my bike as my primary mode of transportation.   Ahh, childhood memories.  And maybe I'll pour an Orange Creamsicle soda while I'm at it, too.